Disney Princesses re-imagined as sexy pin-up models by artist Andrew Tarusov!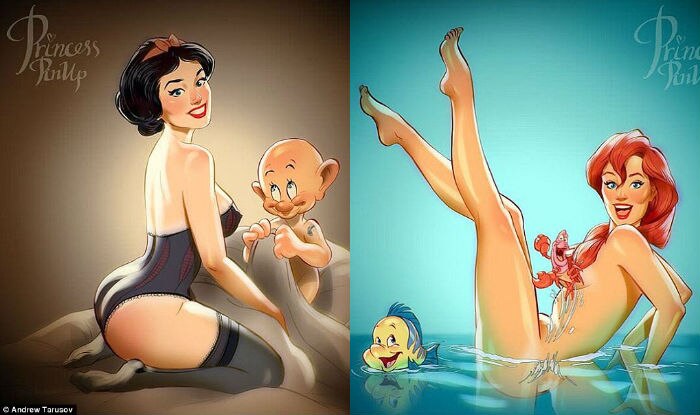 Another moment of 'I can't unsee what I saw' on the internet. Our love for Disney and especially its princesses might have made us overlook few immoral things but this particular re-imagination series of pictures by Los Angeles based artist Andrew Tarusov is just too hot to handle. The nostalgic part of our childhood, the Disney Princesses including Ariel, Snow White, Belle, Merida, Jasmine and Rapunzel seemed to be ruined as he sketches them as sultry, hot and racy pin-up models. This video by YouTube channel ThinkTank discusses has garnered 1,708,065 views. ALSO SEE: 10 Stunning Pictures of Disney Princess in Modern Avatars Will Leave You Spellbound.
Disney Princesses re-imaginations are quite a thing for aspiring artists and at the same time it is hit on internet. We have seen them as 21st century modern girl avatars, Indian brides, mermaids, real life sizes, moms to efffing Star Wars. We have also seen them imagined as shady Fifty Shades of Grey picturisation and following on similar lines is this scantily dressed portrait series by LA-based artist is outright disturbing. ALSO SEE: 13 Disney Princesses re-imagined as Anime characters.
Artist Andrew Tarusov has given an unnecessary twist to innovate little girl's favourite characters and turned them into a middle aged man's fantasy. We see Ariel in human form showing off her long legs as sea crabs tries to save her modesty by covering her tits. Moving to another sketch, we see Belle with a submissive Beast as the next picture depicts a barely dressed Snow White in bed with one of the Seven Dwarfs. ALSO WATCH: These women get redrawn as Disney Princesses! Watch video for priceless reactions.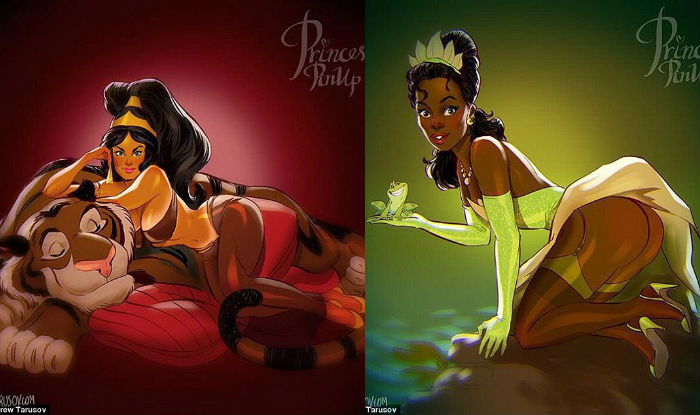 The surprise (read: shock) does not end as we see Aurora from The Sleeping Beauty lying unconscious as Prince Phillip slyly watches her. This raises the never-ending debate of taking consent. The first African-American Disney Princess Tiana who loved her for being ambitious and courageous is also shown in poor light. Probably the most horrific of all sketches is that of Rapunzel who is shown lying naked on the couch with her shining golden hair covering her modesty. While the sketches are actually beautiful but the idea behind seems to be definitely lacking any motive.  ALSO READ: Bollywood actresses as Disney Princesses!