All characters in this story who engage in sexual activity are at least 18 years of age.
My First Blowjob. Here it was–room 214. I paused at the door for a couple of deep breaths, trying to ease the trembling that had been building in the pit of my stomach since last night when Sir had issued my final instructions.
I was really going to do this: not only sucking a cock for the first time but giving myself–submitting–to this dominant man. My legs shook, and I leaned one hand against the door jamb in case my knees buckled.
It would be okay, I assured myself. I had talked to Sir online for several weeks, and he seemed kind enough…if very commanding. Bethany had talked to him, too–sufficiently for her to feel comfortable giving me permission to come here tonight for this: my First Blowjob with a man.
One more deep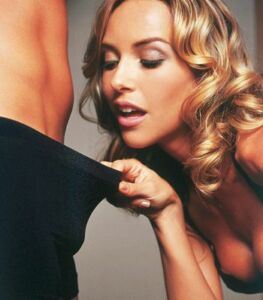 breath, and I put my hand to the door handle. I had been told not to knock–the door was unlocked and opened easily. I found myself in a short foyer with a closet to my left and a bathroom to my right. I could see part of the main room, but only the part with a desk and entertainment center. The bed and other furniture were out of sight around the corner.
Quietly, I slipped into the bathroom and shut the door. Hands shaking wildly, I followed my orders, removing my clothes, folding them neatly, and stacking them on the counter next to the lavatory.
Finally, naked and quivering with nerves, I opened the bathroom door and dropped to my hands and knees. I lowered my head submissively so my hair fell across my face, and I slowly crawled into the hotel room.
Raising my head just enough to peer through the fall of hair, I saw Sir sitting in the room's single easy chair. He wore black slacks, dress shoes and a crisp, white, button-down shirt. I didn't raise my head to look him in the face, but lowered it again and crawled toward him.
When I was close enough to his shiny black shoes, I took the position he had described to me, sitting on my heels, knees apart, hands clasped at the small of my back, chest out, tits up, eyes down, mouth open–ready to be used as Sir pleased. I was committed; it was done. My fate was in his hands–for the next few hours, at least.
Sir regarded me silently for several long minutes, then leaned forward and placed the tip of one finger beneath my chin, prompting me to raise my head. He brushed the hair out of my face and leaned back once more in his chair as I knelt at his feet.
I'd seen his photo before, so I knew he was an attractive man, but seeing him in person…he just looked so…big…especially since he was dressed and I wasn't. I felt like a tiny, naked creature quailing under the scrutiny of a giant. My breath caught, and the ball of nervous energy gyrating in my chest caused my boobs to jiggle slightly.
Finally, Sir spoke, and a shiver raked my spine at the deep, rich authority in his voice. "Undress me," he said, gentle but unyielding, "begin with my shoes."
Hands trembling, I leaned forward to touch his left shoe. The polished leather was slick and cool beneath my fingers, and I had the sudden irrational urge to kiss it. Should I? He hadn't said to, but….
I decided to take a chance and follow my instinct. Slowly, I leaned down and placed my lips against the toe of his shoe. Following another unreasoning impulse, I extended my tongue and licked the cool leather. The musty, acrid flavor of polished leather filled my mouth, feeding a quaver of astonished excitement that rippled through me at my daring submissiveness.
Still leaning close to his foot, I pulled the laces, unraveling the knot, then moved my fingers up and around his sock-clad ankle. He lifted his leg a little, and I gripped the shoe's heel to pull it down and off. The odor of feet rose to my nostrils–not too strong–cut with a hint of lavender scent.
I let my fingers stroke over the black knit surface of his sock for a time, then reached beneath his pant leg to find the elastic band at the top. I drew it down, and he lifted his knee again so I could pull the sock off.
I stared at his foot–so large and angular compared to Bethany's, and slightly hairy on top. I touched it lightly, stroking with my fingertips, then leaned down and placed a kiss reverently on his arch. "Mmmm," Sir rumbled, and the sound reverberated through my body, causing something deep inside my belly to turn warm and soft.
I repeated my obeisance with Sir's other shoe, this time rubbing my cheek against his bare foot and letting my hair sweep across it. His approving rumble set my insides aquiver like a half-set pudding.
When both his feet were bare, I settled on my heels once more, scooting back a few inches to give him room. I waited, head bowed, until he stood. He untucked his own shirt, unbuttoned and removed it, tossing it onto the bed, then stood there, the fly of his pants only inches from my face.
I lifted my head slowly as my gaze traveled up the long, straight columns of his legs, snagged momentarily on the bulge at the front of his pants, then continued upward to stare wonderingly at the hard ridges of his abs, the furred slabs of pectoral muscles, the thick, powerful shoulders and arms.
My god, I thought, he could break me in half with less effort than I would expend squashing a bug. My belly quivered, and I felt a droplet of liquid fall from my naked crotch onto the back of one ankle. Per Sir's instructions, I had been edging for the past week–with Bethany's gleeful assistance–and my kitty was drenched and throbbing.
Hands trembling, I knelt up and reached for his belt buckle. I fumbled with it, surprised how hard it was for my febrile fingers to extract the stiff leather from the brass buckle. I succeeded at last, then unbuttoned the waistband of his slacks.
My heart pounded so hard as I reached for his zipper that I could see the pale flesh of my breasts quiver with each heartbeat. I drew it down, and the front of his pants fell open. I gasped as I beheld the thick bulge of his cock stretching the snug black fabric of his cotton boxer-briefs.
My head spun with excitement and anticipation as I pulled the elastic waistband away from his body far enough to pass over the girth of his penis. I pulled the underwear down his legs–along with his slacks–and his erection sprang free, smacking me on the cheek. Here comes my first blowjob.
I couldn't help it; I giggled–a giddy, irreverent noise–then clapped my hand over my mouth in dismay and glanced up at Sir. His handsome face was stern, but I could detect a hint of amusement in the set of his lips. I sighed with relief that I hadn't given offense, and turned my attention to the marvel I'd uncovered.
It was the first cock I'd ever seen in real life. It jutted from his body in nonchalant defiance of gravity, bobbing slightly with each beat of his heart. Tentatively, I reached out to touch, stroking my fingertips along it. The skin was smooth and veiny, stretched tight over a shaft that seemed as hard as wood. The head was a dusky rose color that looked tight and slick but felt spongy and velvety soft.
As I played my fingers over it, a fat drop of clear liquid oozed from a tiny slit at the very tip. Intrigued, I extended my tongue and licked the droplet up. It tasted very slightly salty and smoky, and it was very slick. Experimentally, I squeezed the shaft, and was rewarded with another, smaller drop that I rubbed across my lips, suppressing more giddy laughter as I imagined wearing it as lip gloss.
I rubbed the head of Sir's cock up my cheek and across my forehead, reveling in its velvet softness and the cool trail of pre-cum left behind on my skin. Then I spied the pale pink sack of bulging testes dangling below the base of it, and my lips tingled with anticipation.
"Oooh," I murmured, lifting the rigid, gently pulsing length of him out of the way and scooting forward on my knees until I could kiss the sparsely hairy skin of his scrotum. It was silky smooth, and when I extended my tongue for a lick, I could feel his testicle rolling about inside.
Eagerly, I opened my lips and sucked the nut into my mouth, laving my tongue back and forth, over and under, coating it with saliva and marveling at the way it rolled about in response to my licking, like an egg wrapped in wet silk.
Sir grunted, and, instinctively, I gave his cock a light squeeze and a little pull. "Mmmm," he rumbled approvingly, and a spike of pride swelled my heart. I was doing it right, and it was marvelous.
Letting the testicle slip from my lips, I switched his cock to my other fist and shifted to tend his other nut. This time, as I tongued it, I hummed at the delicious sensations in my mouth. Sir grunted again and smoothed one big hand over my hair. I hummed again, stroked his shaft, and angled my head to look up at him. He gazed down at me, and I blinked innocently at him, sucking his ball like a wide-eyed infant with a pacifier.
"Mmmm," Sir said, "you pretty little slut. Suck my cock now, no hands."
Obediently, I let go of his testicle and clasped my hands behind me. I opened my mouth, maneuvering my face so I could capture the head–now darkened to a turgid mauve–between my lips as it bobbed up and down.
Holding it in my mouth, I licked around and around, exploring the firm, pliant ridge that defined his crown, tonguing the slender cleft on the underside and probing the tip of my tongue into its tiny slit. Sir issued his little growl of approval, and I hummed, letting the vibration carry through my lips to his hard stalk and feeling it jerk and thrum in response.
Sensing it was time to get down to business, I tried a suck, sealing my lips around his shaft just behind the head and drawing air from my mouth to concave my cheeks. He rumbled in what seemed a satisfied way, so I did it several more times, humming in between and smacking my lips against his hardness with each suck.
After a while, Sir seemed to become impatient, and his huge hand came to rest on the back of my head, gathering a handful of my hair in his fist. Gently, but firmly, he began to move my head back and forth, stroking his cock into my mouth from my lips to my tonsils.
A wave of excitement and arousal swept through my body, like bubbles rising in a glass of champagne. Sir was fucking my face! He was using my face to pleasure himself! The bubbles seemed to lodge in my head, making me feel giddy, even as my needy cunt throbbed and wept.
Falling into a rhythm, I sucked and hummed in time with his face-fucking, and scarcely two more minutes passed before I felt his cock swell alarmingly and grow much harder between my lips. Startled, I looked up at him and saw a strange expression on his face. Suddenly, I realized he was about to….
Sir's cock twitched violently, and a wave of warm, salty fluid filled my mouth, flooding my throat, and I choked. He pulled his cock from my lips just as it pulsed again, and a stream of milky cum shot forth to splatter against my cheek. A third stream struck my forehead and gummed my right eye, and a forth arced into my hair. He placed his cockhead back between my lips and pumped three or four smaller streams into my mouth.
Sir shifted away from me as I knelt there, a little stunned, and, when I looked up at him, he held up a phone and snapped a photo of me. Turning the phone, he showed me an image of my cum-glazed face, one startled eye open wide, the other glued shut. Pearly globs of semen decorated my features, and rivulets of jism flowed from the corners of my lips.
With a few more taps, Sir addressed the image to Bethany, and I watched as he tapped the send button. The caption read, 'My First Blowjob.'